Discussion Starter
·
#1
·
Since I have started racing I joined a group of priveteers we go by the name "Piratas" (Pirates) we have no sponsors just guys that enjoy racing and foot the bill on our own. (Like most normal racers do) Anyways I have never tried rain tires, everyone is telling me they are just like using race tires only used in the rain. We decided (5 of us) to practice in the rain as rain season is coming and of course racing does not stop for bad weather. Practice on! My first outing i'm really cautious as 4 of my 5 accidents on motorcycle had water involved. After a few laps im finding out what they say is true. They do grip in the wet and **** good grip. I was shocked that they do hold that good, you cant brake like normal, usually in a lean on dry track your okay, in the wet different story. We were out about 40 minutes as no one else was at the track. I mean NO ONE! We came in for a quick break then went out for another round, I was really getting confident on the rain tires, then low and behold the water bit me. Turn one is a long left hand sweeper with slight up hill, at the 150M brake marker down shift from 6th to 5th, lean the bike ride it out, right before turn 2 drop to 3rd and make a hard left on a slight down hill turn. I was in 5th getting ready to start my down shift to 3rd I am not 100% sure, but I think I turned in a little too much and hit the rumble strip. Paint + wet = no grip! Front end went down I went down we slide from one side of the track to the other side. Bike on my left leg and Im trapped under it.
I tried to pick up the bike but my position under the bike I had no leverage to move the bike. Luckily my friend was coming into turn 1. I flagged him down he helped me get the bike off of me. I know your not supposed to stop on the track, but like I mentioned earlier we are the only 5 on the track. No major damage done to the bike a little of the wrap got peeled, my left bar minor bend same with left rearset, as for me a little soreness. My left ankle was pinned under the shift linkage and foot peg a little bruise on ankle and left knee. My ribs I dont know how but they are sore as ****. After we got the bike up I continued to ride for another 20 minutes. If you dont get back on and go whats the sense of riding. The wreck was like in slow motion I could see it going through my mind before I ever hit the pavement, nothing I could do too stop from going down though.
We had lunch and changed tires back to Super Corsa's as the track had dried up enough that we would have damaged the rain tires. One of my teammates also rides an N400 so we decided to follow each other. He lives 20 minutes from the track so he knows this track like the back of his hand. My best time on dry is 2:27, his best time was on an N300 is 2:18 so we went to play and him teach me the lines. We had done around 8 laps or so, passing each other when the other would make a mistake. We were on the straight about 200M from turn 1, my friend that stopped to help me rides and R6, he passed us about that same time, we all went to lean into the turn, the R6 lost grip and down he went. He slid off the track bike did a little tumble he did a few big tumbles. By the time we got to him, he was up and shaking his head trying to figure out what happened. His bike got a lot more damage then mine did. He said he downshifted from 6th to 3rd gear. Why he went to 3rd we dont know, I think thats why he lost the rear tire and went down. The next day we talked about it he said he was trying to beat his time and top speed on the straight. He mentioned he looked down and was running 236KPH right before the accident.
As a joke we call each other the Texas Eggplant (look at my bike you can figure it out (purple <3)) I call him the pinoy banana. (His R6 is yellow). After a decent day of practice we both walked away from accidents that if it would have happened anywhere other then the track could have had way different outcomes. We both peeled a little color off our bikes but no worse for the wear. It was a good day and a lot of lessons learnt.
Eggplant and the banana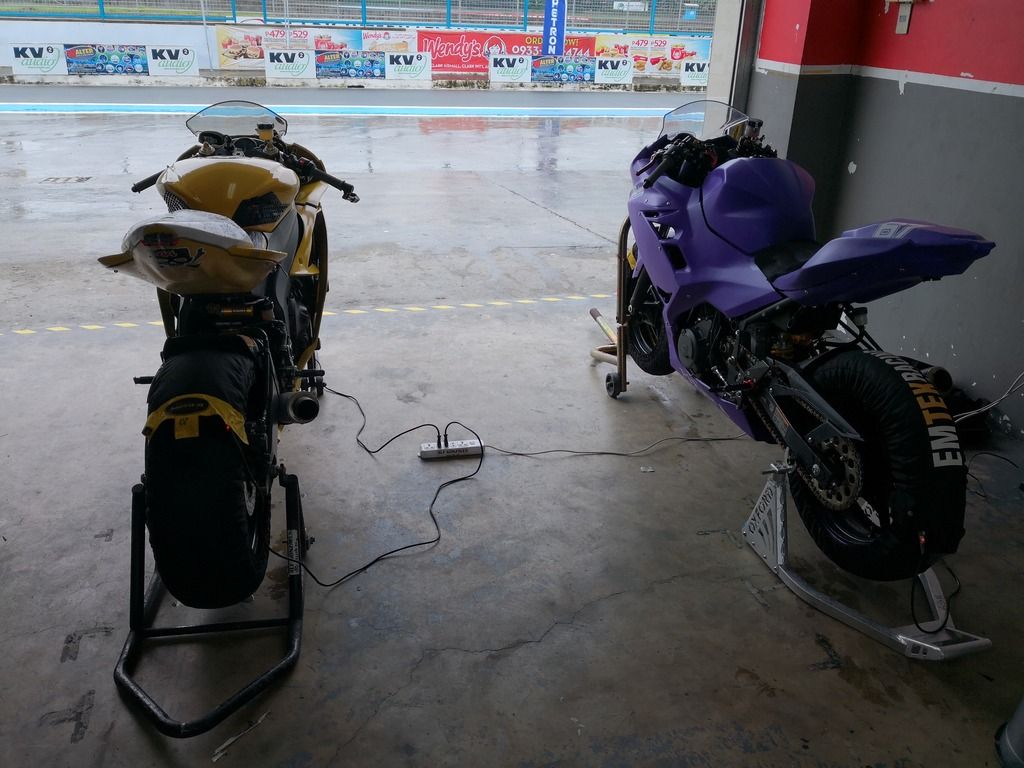 After my little incident as I said no major damage. The bar is in the vise getting straightened thats why its missing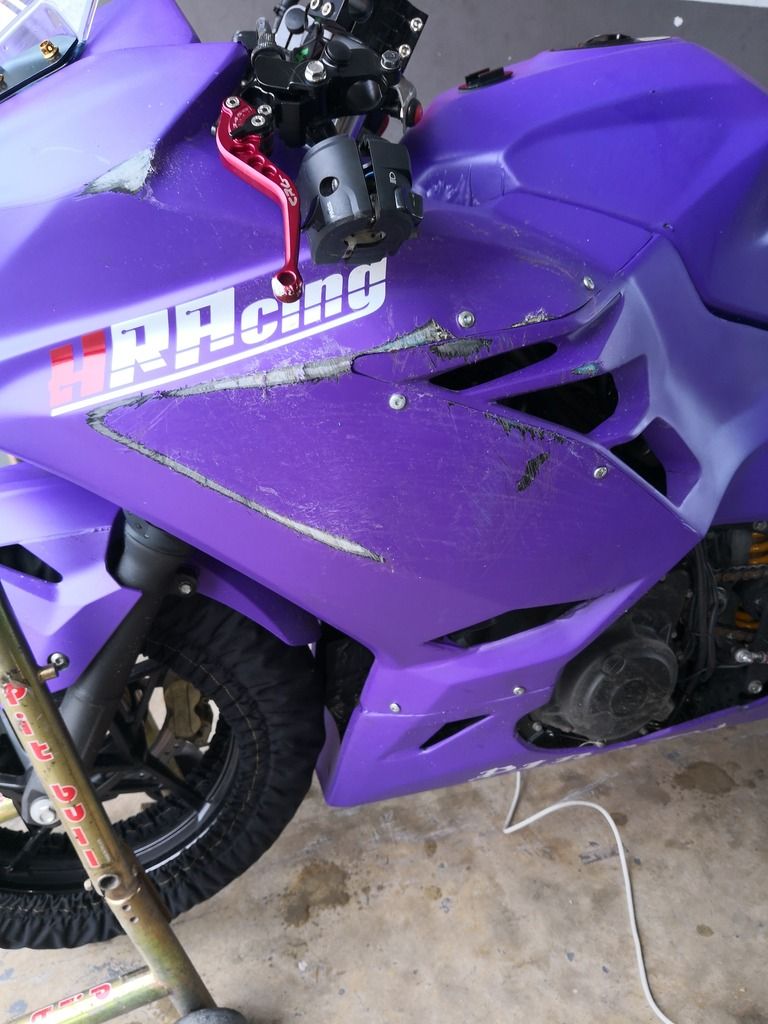 The BANANA peel