It was a really long weekend of practice, qualifying and racing. It started on Friday the 20th of April, I had purchased the 150/70 rear tire for the N400, worst choice I could have made. I will do another write up on this topic. During practice I couldn't get the bike to fall into the corners no matter what I tried, I was not comfortable the whole day. Something just felt off. I had gotten the Andreani cartridges installed before the race weekend I thought maybe something was wrong with the suspension, or with the setup of my suspension. Our mechanic did great work to get my bike ready. Anyways on to my race report.
As I mentioned earlier practice just didnt feel right. It was Saturday morning the mechanic told me to go buy a 140/70 tire and try it as we had 2 more practice times before qualifying that afternoon. The change of tire size did what I needed it to do the bike felt nimble and like it wanted to fall into the turns like it should be. My qualifying time placed me at 27th on the grid with a time of 2:06.333 which is a slow time but I was in front of my group Pirelli JR rookie group.
Race 1.
My start was garbage, I used the launch limiter tried to release the clutch slowly ended up bringing the front end up which caused me to throttle down so I wouldn't flip the bike. I went from 27th to 30th by the time I got the bike settled down. Turn 1 I was expecting to run up on a few riders down. There was no issues in turn 1 so I started to race. Since this was my first race I didnt go aggressive against the other riders. Another big mistake its a race not a place to be submissive, but I didnt want to wreck and didnt want to wreck someone else. I finished race 1 with my best lap time of 2:03.61, almost 3 seconds off of my previous best. Look for bike #67 in the photo below. I took 1st in my class.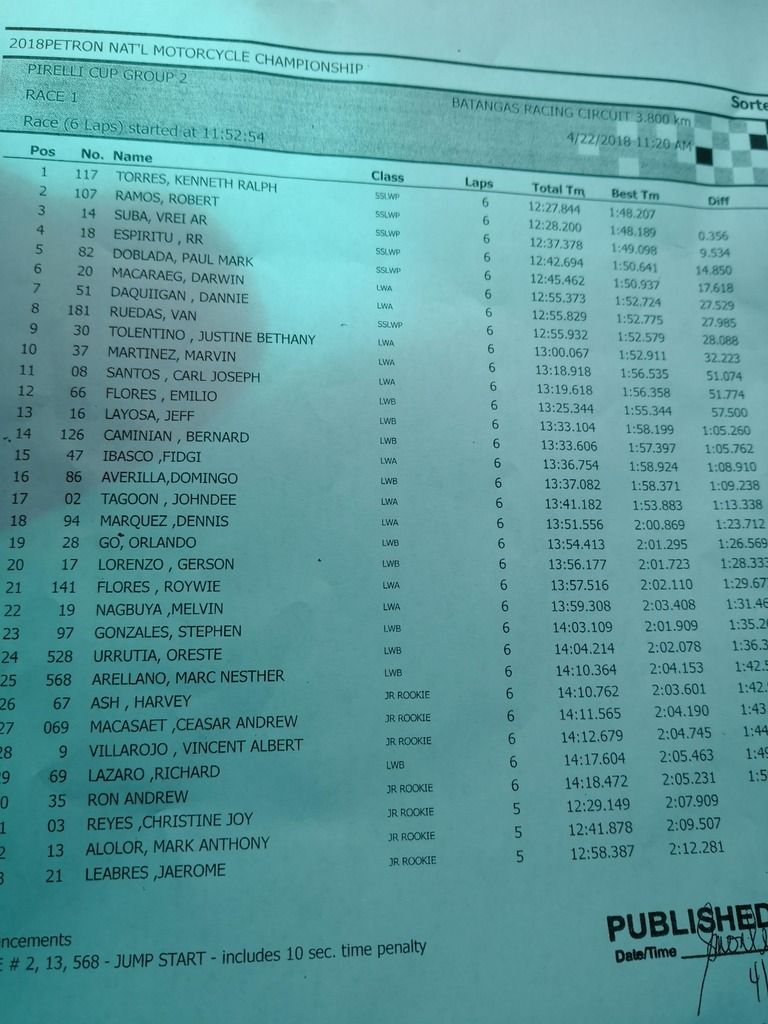 Race 2.
I did a little better on my start, it wasn't perfect but I remembered the advice
@Kiwi Rider
had told me bike in gear, left foot on ground, right foot on rear brake, left had letting the clutch out, right hand on throttle holding constant RPM it worked thanks brother. This race I was more aggressive then I was in the first. I did end up having a little bump with another rider, they took the outside on a long left hander, I took the inside race line and by the end of the turn I was side by side with the other rider, they tried to pull into my line and ended up bumping me, neither of us went down however the other rider got slowed down from our confrontation. I was really feeling good this race and tried a few things that I hadnt done in the previous race. They worked as I ended up passing a few more bikes that where in front of me. My final result for race 2 was 1st place again. I beat my previous best lap time again during this race. 2:01.204 I had dropped 5 seconds of my best times.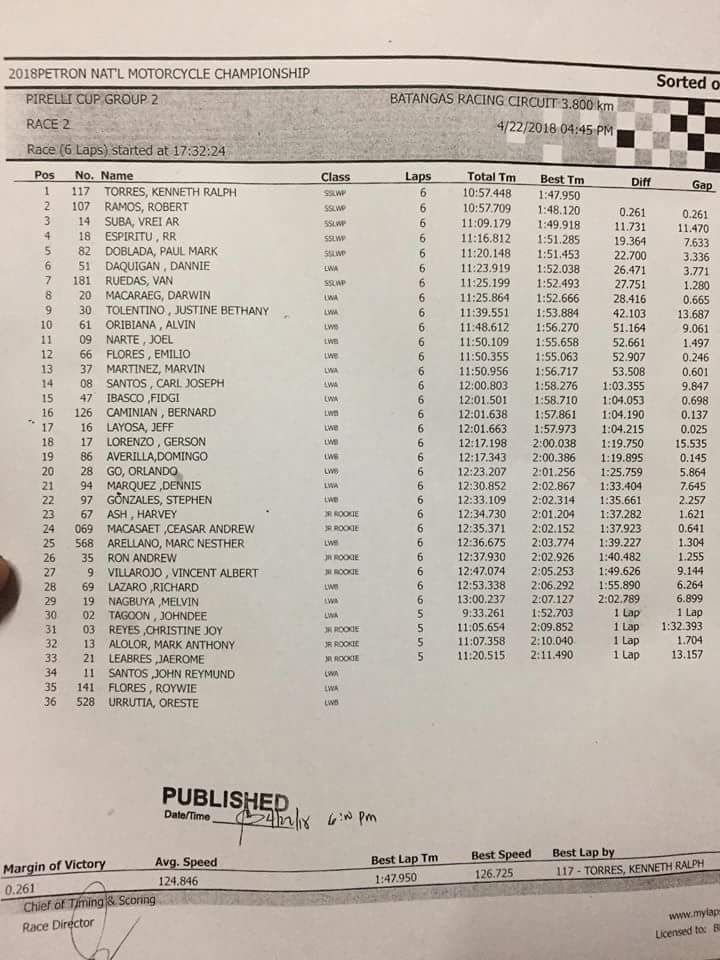 I ended up being the 1st place winner for my race weekend for my race group. I am very pleased with my results and looking forward to the next race in July. :grin:
My son and I holding the first place trophy. We didnt get to keep the trophy as they will give it away at the end of the season. I wish I could be here for all the races but I will miss 4 of the next 10 races which will hurt my chances.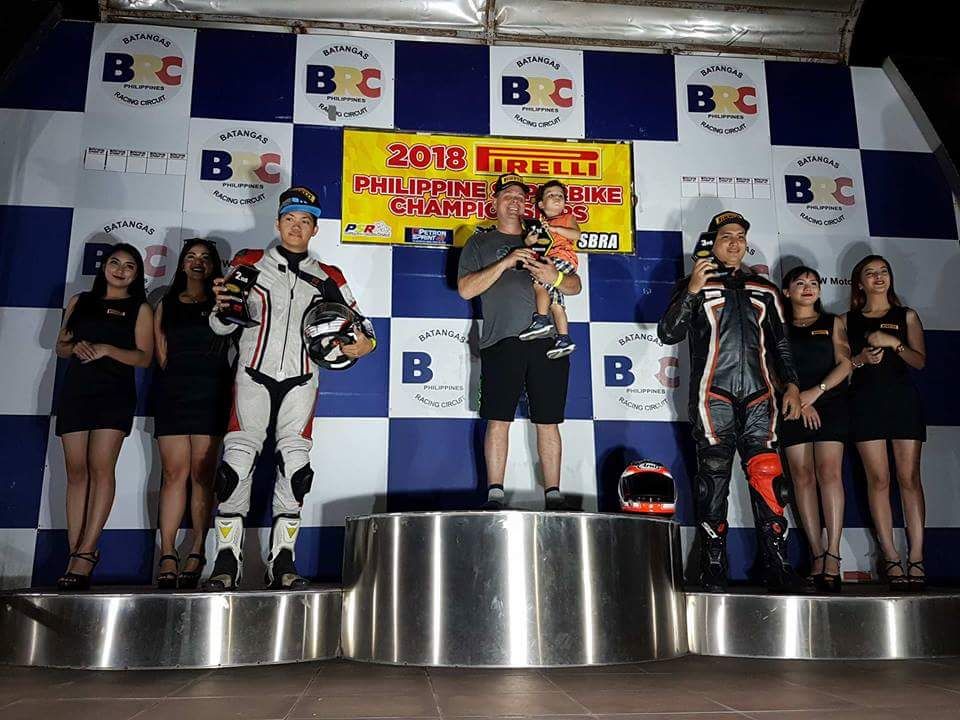 Me and the 400 on the grid waiting to go. Yes I am that big lol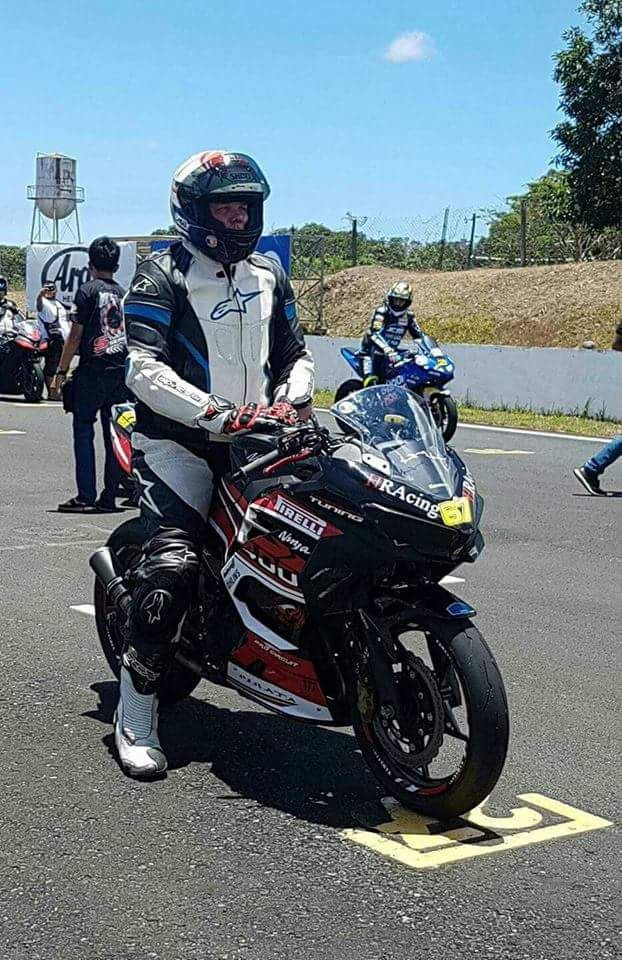 I plan on losing some weight before the next race. The bike still has everything on it, headlights, horn stock fairing etc. So she will be getting a weight reduction also. Thanks for reading if you made it this far down on my long post.